SOLA FANAWOPO
---
Up until 2016, London led the way in FinTech, thanks to its challenger banks and a vast array of blockchain, machine-learning and data-mining companies. In 2015 alone, the British FinTech sector generated £6.6bn in revenues and attracted £524m in investment, according to EY, figures that other countries can only dream of.
But not so in 2016, the year that China's FinTech dragons roared, dominating VC spending while investment in some previously feted leaders in other parts of the world wilted, according to a report from Citi.  According to estimates from Credit China FinTech, China's investment in FinTech ventures grew by $8.8bn between July 2015 and June 2016, more than doubling from 2010.
Meanwhile, a report released by DBS and consultant EY ranked China as the number one FinTech destination, overtaking London, New York and Silicon Valley
In the first nine months of 2016, global FinTech investments reached $18 billion, over half of it from China, thanks in large part to a few mega-deals, most notably the $4.5 billion private fund raising for Ant Financial,  the financial-services affiliate of e-commerce giant Alibaba Group Holding Ltd.
In fact, 2016 VC funding is expected to be down by more than a third in North America, a quarter in Europe and three quarters in Asia, excluding China. Balancing this out is a 104% increase in funding in China, which has made Asia the number one FinTech investment destination.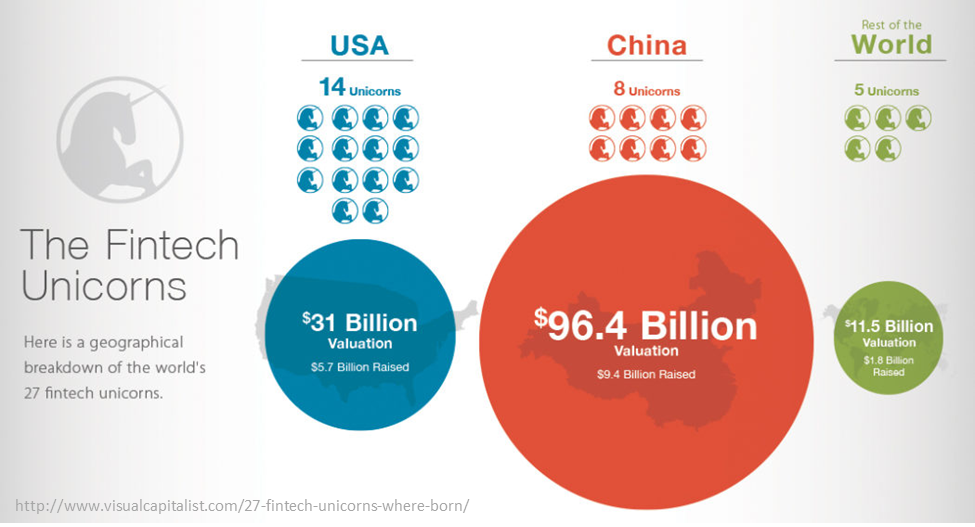 In 2017, China has picked up from where it stopped in 2016. Just in January, a consortium of Chinese state-owned companies and private enterprises has created a $1.44 billion investment fund dedicated to FinTech mergers and acquisitions.
The fund, Asia FinTech Merger and Acquisition Fund of Funds, is led by Hong Kong-listed Credit China FinTech Holdings along with a number of other Chinese companies such as Shanghai Xinhua Distribution Group, China Huarong International and eight other corporate partners.
Investments will focus on fintech fields such as big data, artificial intelligence, mobile payments, supply chain financing and blockchain technology.
The investment fund is another signal of China's growing status in the global fintech market.
Few days ago, Credit China, another China FinTech entered into US$30 million deal with Bitfury Group. The deal includes an investment in Bitfury shares and the establishment of a joint venture focusing on the China market.
BitFury Group is the world's leading Bitcoin and private blockchain infrastructure provider and transaction processing company, which provides a full-service chain of hardware and software products.
And just yesterday, China's Ant Financial started flexing its international muscle by agreeing to buy US money transfer service, MoneyGram, in a cash deal worth $880 million.
The definitive agreement, called a merger, will see MoneyGram stockholders offered $13.25 a share in cash. Shares in MoneyGram closed Wednesday at $11.88.
Alibaba's unit, Ant Financial, says that the transaction will connect its hundreds of millions of users with MoneyGram's money transfer network of 2.4 billion bank and mobile accounts and 350,000 physical locations.